We all know a little bit about the main football betting markets: match winner, both teams to score, correct score, over/under 2.5 goals….these are all self-explanatory.
But for a number of bettors, there is still some confusion about Asian handicaps. What are they? How do they work? Is this a profitable way to bet?
We'll answer all of these questions and more in this ultimate guide to Asian handicaps.
1.
The History of Asian Handicaps
As you can probably tell by the name, Asian Handicaps first gained popularity in that part of the world.
The bet type is believed to have originated in Indonesia in the late 1990s, with the name coming from a conversation that the journalist Joe Saumarez Smith had with an Indonesian bookmaker named Joe Phan.
The country was noted for its 'Hang Cheng' betting style, and Phan asked Smith for a literal translation of the term to appeal to punters from the Western world.
And so the term 'Asian Handicap' was born.
2.
What is an Asian Handicap?
Most bettors will be familiar with the traditional European handicap, which applies an advantage or disadvantage to one team in a hypothetical market.
So, imagine Manchester United are playing against Everton at Old Trafford. The bookies might think that Manchester United are the warm favourite, and they will make them a strong favourite.
You could back the home team in the traditional 1-X-2 market, or you could enhance your odds by backing United with a -1 goal handicap; meaning they would have to win by two clear goals or more for your wager to be successful….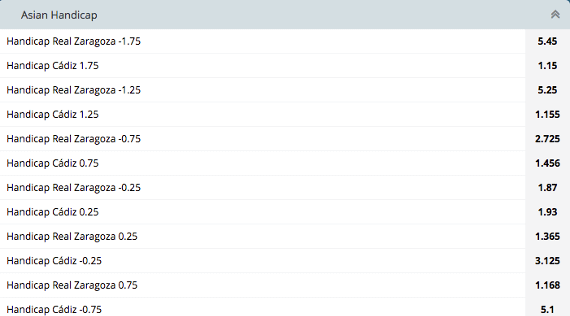 3.
How Does the Asian Handicap Differ?
The same principles apply, however an Asian handicap introduces half or even quarter-goal handicaps into the equation.
The beauty of Asian handicap betting is that you can either win or lose OR earn a stake refund if a certain situation unfolds. That helps to mitigate your risk in your betting.
So, if you backed United with a -1.00 Asian handicap against Everton, several things could happen:
Man Utd win by two or more goals, your bet wins
Man Utd win by one goal exactly, you get a stake refund
Man Utd draw or lose, your bet loses
Then we can add 'half goals' into the equation too. These are a fantastic way to get more precision into your betting by wagering on exact outcomes.
If we backed United with a -1.50 Asian handicap, our outcomes could be:
Man Utd win by two or more goals, your bet wins
Man Utd win by one goal exactly, your bet loses
Man Utd draw or lose, your bet loses
Of course, the odds offered by the sportsbooks on the -1.50 Asian handicap would be greater than for a -1.00.
4.
Quarter Goals (Also Known as 'Two-Way' Handicaps)
There are quarter goal handicaps too, e.g. +0.25 or -0.75. These bring into the mix half wins or loses, for example:
If you had backed Everton with a +1.25 Asian, we would win half of our payout as they covered the scoreline.
If we had backed Man Utd with a -1.25, we would lose half of our stake as they only won the game by a single goal.