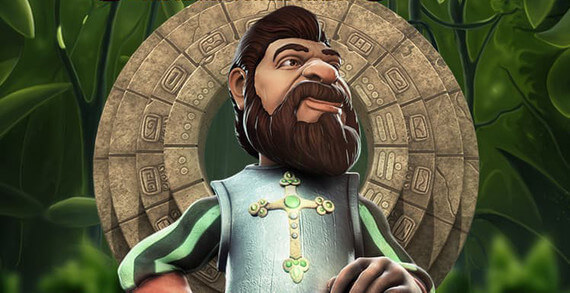 You may think you have started watching a movie when you begin loading up Gonzo's Quest slot machine. However, the cartoon is providing a prelude for that is to come in the game and it is a nice touch.
The opening sequence certainly gives Gonzo's Quest a premium feel and this is replicated by the slot game itself. Designed by NetEnt, one of the top online gaming developers (responsible also for such titles as Starburst, Dead or Alive and Arabian Nights), Gonzo's Quest has achieved legendary status in the world of online slot games. Let's take a look to find out why it is so popular.
1.
Paylines and reels in Gonzo's Quest
The game Gonzo's Quest has five reels and 20 paylines. The amount you can stake varies from small to large and therefore it is suitable to a variety of players. The aim of the slot, in terms of the story, is to guide Gonzo through the Amazon to find Eldorado, which is the lost city of gold.
The main difference between Gonzo's Quest and standard slot machines is the reels and they do not spin. Instead, they drop as blocks from the sky. This adds to the overall theme of the game and certainly makes for a different experience. The blocks have Mayan symbols on them, in keeping with the theme.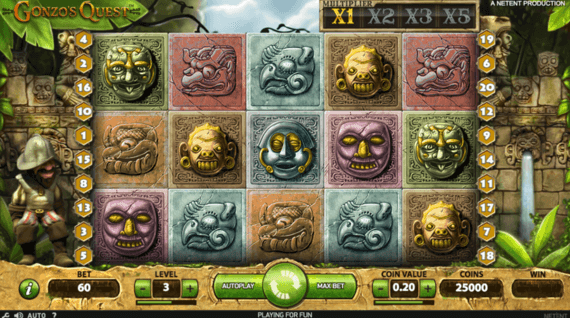 2.
How to play Gonzo's Quest?
The system Gonzo is based on is known as Avalanche reels and you will find some of them blow up and disappear when you make a winning combination. The symbols which remain above will fall into place and they are replaced at the top with new blocks. Therefore, it is possible to win more than once on each spin.
Each time you make a winning combination, you will see the meter in the top right of the screen go up in value. It begins at 1x and moves up to 2x when you win. As the new blocks fall into place, you can win more using the multiplier and if you do, it will move to x3 and up to x5 if you win four times in succession.
If you manage to get three Free Fall scatter symbols on three consecutive reels you will start the bonus feature. You will receive 10 free block falls and the values on the multiplier changes to include x3, x6, x9 and x15. That means even bigger prizes and the potential to win with a x15 multiplier.
Watch out for Gonzo on the left side of the falling blocks. When you win, he likes to celebrate and you will be too if you find success with Gonzo's Quest.